Mindcollision , Sickret , Keesel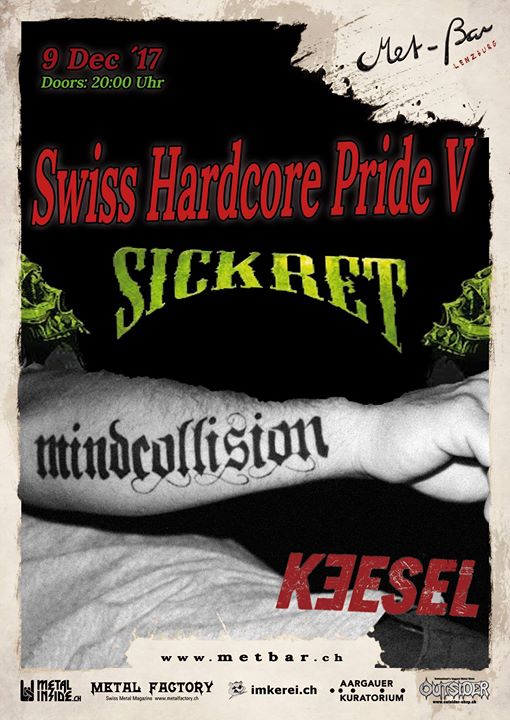 Metalcore
Datum
Samstag, 9. Dezember 2017 - 20:00 Uhr
Beschreibung
SWISS HC-PRIDE VOL V
Swiss Hardcore / Metalcore and Crossover sounds! We are very proud to have some of the coolest crossover/ Hard- Metalcorebands of Switzerland yet again on stage!
Keesel Will open the party with their swiss german Crosseover/ Hardcore stuff
Up next is SIKRET! nothing more to be said about them! One of Switzerlands finest Bands!
MIndcollision will be Headlining the Show and blow your face with their mix of Hiphop beats from the DJ, Groovy guitars and really nice Vocal work!
Its going to be a hell of a party 🙂
Eintritt: 15.00 CHF
Doors: 20:00 Uhr
MINDCOLLISION – that's concentrated Rapcore power out of the Swiss canton of Zug! Mindcollision plays an energetic and melodic metal mix with rap influence.
https://www.facebook.com/pg/mindcollision/about/?ref=page_internal
SICKRET – Nu Metal/ Hardcoreband from Switzerland.Hart und kompromisslos hämmern sich die Riffs durch die Schweizer Alpen.
https://www.facebook.com/pg/sickretmusic/about/?ref=page_internal
KEESEL – "keesel-core"
https://www.facebook.com/pg/Keesel-231423008094/about/?ref=page_internal
Ort
Met-Bar Lenzburg, Niederlenzerstrasse 29, 5600 Lenzburg, Switzerland
Zurück zu allen Events
Fehler gefunden?